PowerExpand+ 5-in-1 USB-C Ethernet Hub
Upgraded Version USB C Hub Adapter, 5-in-1 USB C Adapter with 4K USB C to HDMI, Ethernet Port, 3 USB 3.0 Ports, for MacBook Pro, iPad Pro, XPS, Pixelbook, and More (UPC: 194644015336)
The Anker Advantage: Join the 50 million+ powered by our leading technology.
Massive Expansion: Transform your laptop?s USB-C port into 3 USB 3.0 ports, 1 HDMI port, and 1 Ethernet port?all from a single compact USB-C hub.
Vivid Display: Mirror or extend your screen in a variety of resolutions up to 4K@30Hz via the HDMI port.
High-Speed Data and Internet: Use the Ethernet port for a stable internet connection up to 1 Gbps, and transfer an entire music or movie library in seconds at speeds up to 5 Gbps via the 3 USB ports.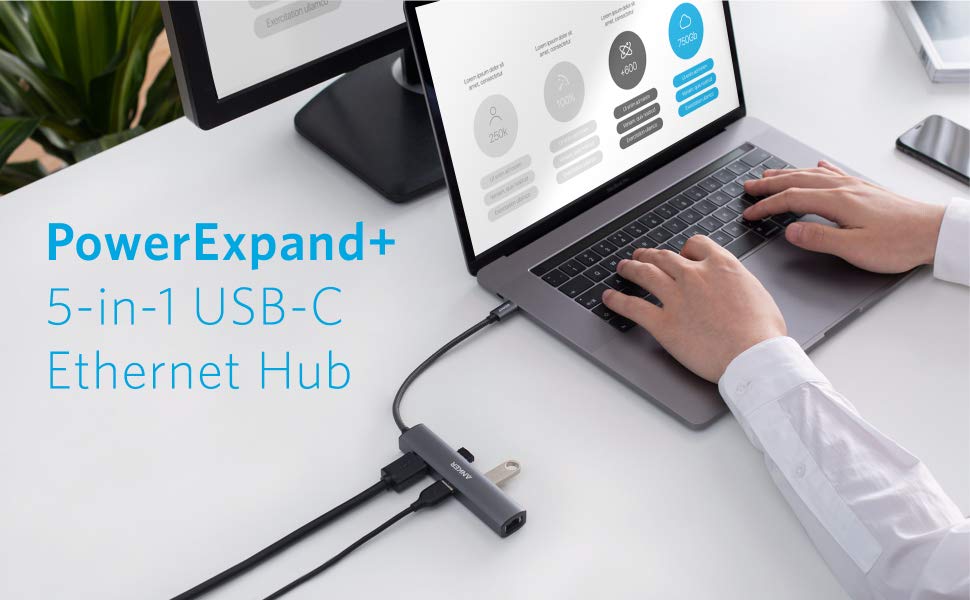 High-Speed Data Transfer
Transfer movies, music, and more in seconds with transfer speeds up to?5Gbps.
Ultra HD Display
Easily stream media or extend your screen at resolutions up to?4K@30Hz.
High-Speed Ethernet
With this USB-C hub, you can connect to the internet instantly and enjoy stable connection speeds of up to 1 Gbps.
Compact and Portable
The compact and lightweight aluminum design fits effortlessly into your bag or pocket for superior portability.?Travel pouch included.
Model Number: A8338
Five in One
Get 3 USB data ports, 1 HDMI multimedia port, and 1 high-speed Ethernet port?all in one hub.
Vivid Video, Speedy Sync
Access 5 Gbps data transfer speeds with the 3 USB ports, or connect to the HDMI port to stream videos in crystal-clear 4K at 30Hz.
Instant Internet
Instantly connect to the internet via the 1 Gbps Ethernet port for a stable and reliable connection. Perfect for areas of your home with poor Wifi connectivity.
Premium Construction
The USB-C hub?s aluminum surface dissipates heat, and the braided nylon cable is designed to withstand up to 2000 bends.